Verification
Verification is not required to use Odysee, but it is highly recommended. Verification allows you to earn LBRY Credits (LBC for short) simply by using Odysee. We require verification to receive LBC, to avoid abuse.
Most accounts are verified automatically. Depending on factors like location, VPN use, etc. you may be asked for additional information for verification. To do this, you have a few options: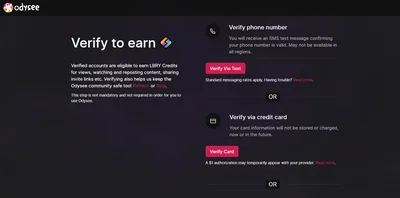 Via Phone Number
Your first option is to verify through your mobile phone number. We'll send you a text message with a code. Not all regions are eligible for phone number verification.
Via Card
You can also verify using a credit or debit card connected to a dollar bank account. Odysee does not store your card information nor will we charge you any fees. You may see a payment authorization of $1 in your bank account, but this will be returned to your account.
Via Discord chat
Finally, you can verify through our Discord server. Here, a moderator will review your account and, if eligible, approve your rewards.
At this time, verification requests are reviewed manually, which means they can take anywhere from a few hours to multiple days to be approved.
Information
Take a look at the complete guide on rewards and monetization in Odysee, click here.